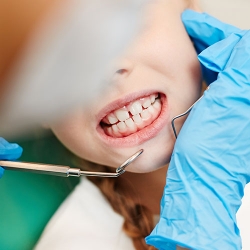 Positive experiences in the dental office during childhood are important for building a lifetime of dental health. The dental team at Raton Family Dental believes that, in everything we do, creating this positive relationship with your child is key. We strive to provide the best in dental care to give your child a healthy smile and have fun along the way so your child leaves happy!
As your child grows, they will need regular dental checkups and hygiene visits to ensure optimal oral health. Our team also teaches oral homecare techniques so your child learns how to effectively brush and floss, with your help at first, then on their own. From infants to adolescents, we go the extra mile to ensure that your child feels comfortable and actually enjoys their visit with us.
Let us help your children learn the importance of optimal oral health from a young age. Children of all ages receive treatment at Raton Family Dental, and we make it a point to ensure their comfort during the time of their visit! We work with parents and their kids to provide them with enjoyable, broad-ranging, and quality.
Pediatric Dental Care
General Pediatric Dentistry

Baby Exams
Cosmetic Dentistry
Dental Cleanings
Dental Sealants
Digital X-Rays
Emergency & Dental Trauma Care
Fluoride Treatments



Restorative Care

Dental Crowns
Dental Fillings
Root Canal Treatment
Tooth Extractions



Sedation Dentistry

General Anesthesia
IV Sedation
Nitrous Oxide ( Laughing Gas )



Sports Mouth Guards
Whether for a routine check-up or more in-depth procedure, the dental team at Raton Family Dental works with you and your child to help make the dental experience both effective and pleasant. We also understand how important it is to take care of your children's teeth. We will work with parents to ensure that their children are taking good care of their teeth at home. We also monitor for any problems so we can catch them early.