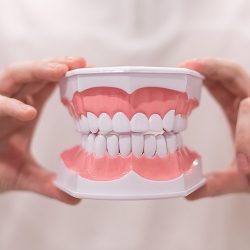 Dentures are removable appliances that can replace missing teeth and help restore your smile. If you have lost all or most of your teeth, you may have also lost the healthy function of your mouth and your confidence. Full or partial dentures make it easier to eat and speak better than you could without teeth.
Dentures are an excellent choice for patients who are missing teeth and surrounding tissue. These appliances are designed to replicate your natural oral structure, and are removable for daily cleaning. Depending on your unique needs, a denture may be partial, to replace some but not all teeth, or full, for total restoration.
There are also several varieties of dentures available to address specific issues, from partial dentures to implant-supported overdentures. The best option for you will depend on your individual situation. Dentures from Raton Family Dental are natural looking and more comfortable than ever.
Dentures & Partials Options
Conventional Full Dentures


Conventional dentures are made after diseased teeth have been removed and the mouth has healed. Then we take an impression of your teeth to create custom fitted dentures that conform to your new oral anatomy. This process takes time. After the teeth removal, the patient waits about four weeks before casting the mold and another few weeks before the dentures are ready. Overall, with conventional dentures, a patient waits eight to twelve weeks without teeth.



Immediate Full Dentures


If you possess teeth that are extremely unhealthy and need to be removed, immediate dentures are a viable solution for tooth replacement. We have the ability to restore smiles instantly with immediate full dentures. Once teeth have been removed, the denture appliance can be placed immediately, avoiding any time spent without teeth. Because gum and bone tissue will recede somewhat over the course of a few months, a return visit will be necessary to adjust the denture so that a proper fit is attained.



Removable Partial Dentures


When only some teeth are missing, and remaining teeth are functional, a partial denture can be made. Partial dentures are very much like a dental bridge appliance, but are removable rather than fixed. The affordable partial clasps around your healthy, stable teeth. This secures the partial denture and extends the longevity of your healthy teeth. Instead of covering your entire arch the way a full denture would, the partial denture is much smaller. It is also removable, making it easy to clean each day.
The dentists at Raton Family Dental will help you decide which type of dentures are right for you and provide you with a quality set of dentures. You will be given care instructions for your new dentures. Proper cleaning of your new dental appliance, good oral hygiene, and regular dental visits will aid in the life of your new dentures.
When Is It Time For Dentures or Implants?
Tooth Decay


When the teeth are so extremely decayed that they become unsalvageable.



Gum Disease (Periodontitis)


Signs of gum inflammation include redness, tenderness, swelling and bleeding that, if left untreated, leads to gum disease. When this occurs, the supporting bone around each tooth begins to deteriorate, thus rendering the teeth loose and moveable. As this advances, it becomes impossible to save the teeth, inevitably leading to removal and replacement of dentures.



Tooth Loss


When a tooth goes missing, extra pressure is incurred on healthy teeth. This uneven distribution of force can snowball into larger problems if left unchecked.